APPLICACIONES EDUCATIVAS
IMPROVE YOUR LEARNING ENVIRONMENTS - ITS KEY TO SUCCES
---
Fabricmate® panels and systems have great impact on learning environments. Enhance learning by reducing reverberated sound and improving speech intelligibility. If Students cant hear they cant learn.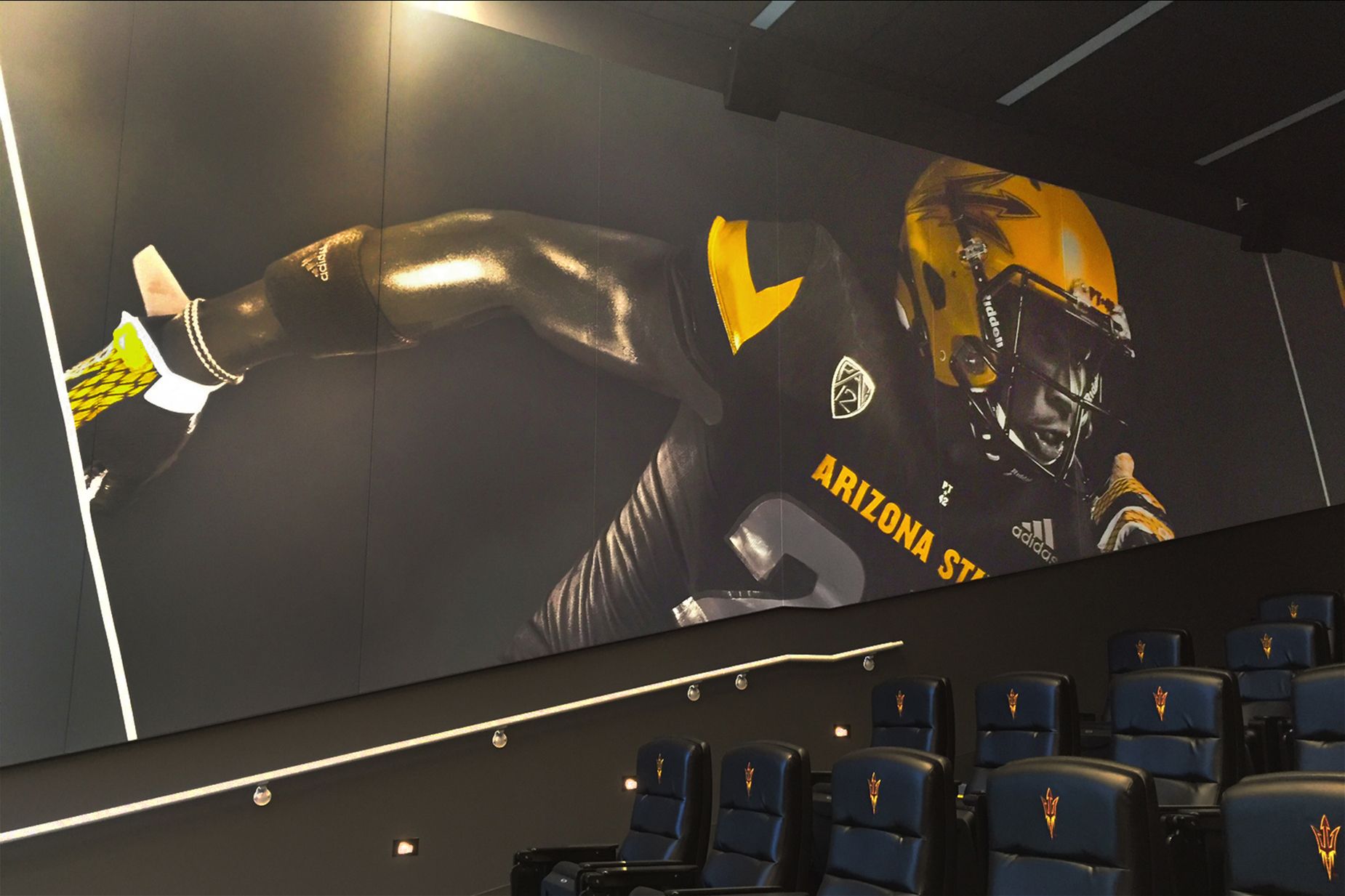 IMPROVE YOUR LEARNING ENVIRONMENTS
Las paredes pintadas son una pesadilla acústia. Hacen que el sonido sea resonante, por lo que es difícil escucharlo correctamente, especialmente en una aula alborrotada. Se ha comprobado que nuestros sistemas de acabado de paredes reducen significativamente estos problemos acústicos comunes y mejoran la intelligibilidad del habla; que es una de las razones principales por las que LAUSD, UCLA, la Universidad de Wisconson y muchos otros distritos escolares están utilizando los sistemas de acabado de paredes Fabricmate.


Muchas veces las aulas tiene un grado de inteligibilidad del habla que está 75 o menos (de 100). Eso es equivalente a no entender cada cuarta palabra. Estos situaciónes estresantes crear cansancio y enfoque muy difícil. Nuestros estudiantes merecn lo mejor y creemos en hacen todos lo posible para mejorar su ambiente de aprendizaje. No solo hacen las lo acústico malo interferir con el aprendizaje de esas que tiene oido normal, pero que hay muchas personas de los que tienen disabilidades de aprendizaje o audio procesar. Los niños pequeños y los que aprenden Inglés como segundo idioma tienen menos habilidades para recaudar porque tienen vocabulario limitado.


arreglar esos problemas acústicos común está se common acoustic problems is one of our primary focuses and we strive to make it as easy and inexpensive as possible.
Nuestro paneles y sistemas que son fabricados en el sitio, son perfectos para todas las edades Our panels and site-fabricated systems are perfect for any age. Whether in classrooms, hallways, common areas, gyms, or elsewhere, the beauty, acoustic performance, and functionality of Fabricmate® Panels and Systems make that all important first impression. They convey warmth and comfort and improve speech intelligibility by significantly reducing the volume of reverberated sound and shortening reverberation times.
Fabricmate® Wall Finishing Systems create that high-tech feel that students love. They transform plain walls into massive tackable bulletin boards for hanging posters, art, and reminders without risk of damaging the wall behind. They improve acoustics by absorbing reverberated sound and reducing noise levels. Their built-to-last durability provides a high-impact barrier that - unlike paint - protects your walls without need for constant maintenance.
GREAT FOR ANY AGE LEARNING ENVIRONMENT
Acoustic and tackable functionality for all ages and learning environments. Significantly increase audio clarity and intelligibility.

SAFE
Our panels and systems are great for all ages. They are created with safe, non-toxic materials that are environmentally-friendly and incredibly durable. Kids can safely interact with and use our system without worry of the side-effects you might get from a fiberglass panel.
STYLISH
You can customize nearly every aspect of our system. Not only are you creating a functional wall surface, you're also able to fully stylize it. Frame color, frame shape, vertical, horizontal, flexible, printed graphics, multi-color, geometric designs... the only limit is your imagination!
DURABLE
We know your walls can take a beating... so we make sure our panels and systems can too. Build with a "floating fabric" design means that damage to the panel is not seen on the surface. The substrate beneath the fabric takes the hit and the fabric stays stretched across the panel. The fabric can also easily be changed if it gets soiled or a design change is desired.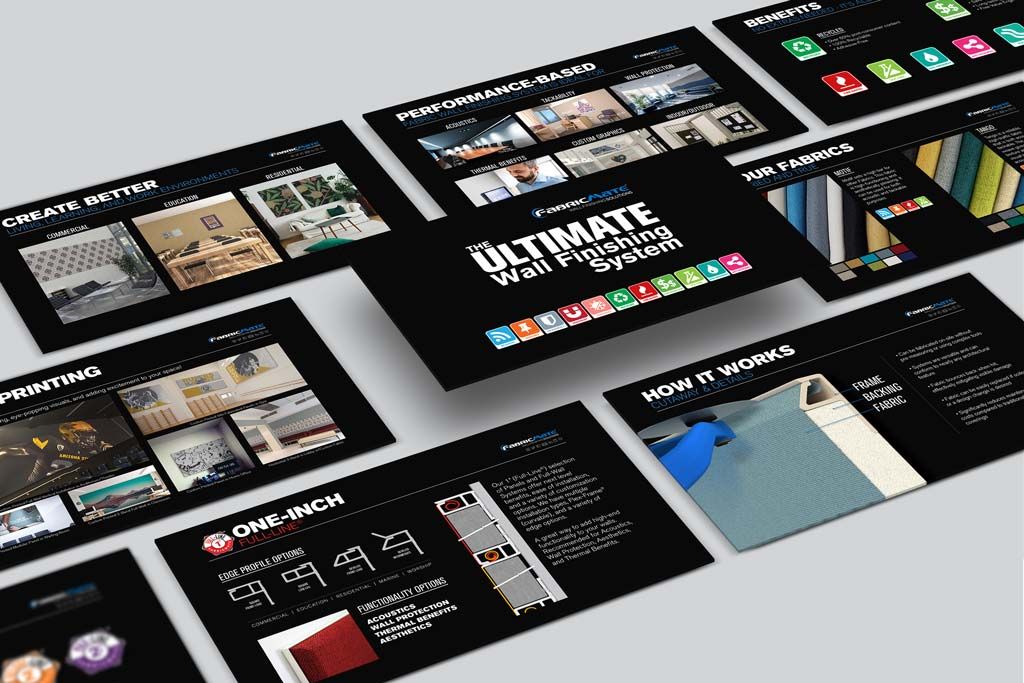 DOWNLOAD THE FABRICMATE® GENERAL OVERVIEW (PDF)
General Overview of our system, how it works, functionality, and benefits of our offerings.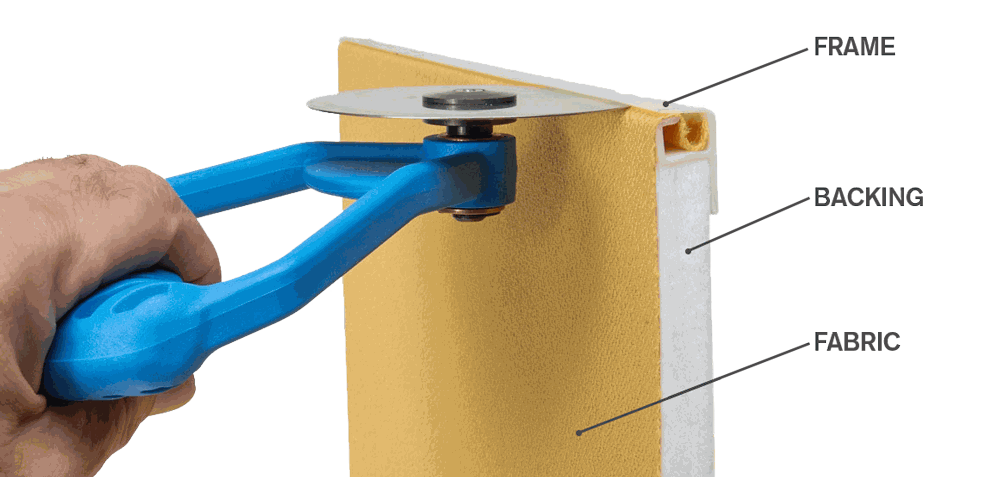 INNOVATIVE AND VERSATILE

With a variety of sizes, shapes, and colors available, the possibilities are endless.


FRAME outlines and frames the shape of the panel or wall, holding the fabric in place and protecting the edges with a high-impact polymer frame.

BACKING fills the frame and covers the wall, absorbing reverberated sound, providing impact-resistance, thermal insulation, and a pinnable bulletin-board like surface that's perfect for tacking up photos, documents, and more.

FABRIC is stretched over the backing and held taut by the frame allowing the panel surface to spring back when struck, effectively mitigating visible damage.
PROTECT YOUR WALLS, PROTECT YOUR POCKET
Maintenance adds up, save more with wall that need less.



ACOUSTIC

• Absorbs Reverberated Sound

• Improves Speech Intelligibility

• Increases Audio Clarity




TACKABLE

• Holds Tighter Than Cork

• Naturally Self-Healing

• Will Not Crumble


DURABLE

• Shock Absorbent & Crush-Proof

• Far Tougher Than Paint & Fiberglass

• Very Long Lasting




SUSTAINABLE

• 60% Post-Consumer Products

• 100% Recyclable

• VOC Free


FIRE-RATED

• Many Components are Fire-Rated

• Meets Code for Commercial Buildings

• ASTM E84 Class A Fire-Rating




INNOVATIVE

• Mitigates Visible Damage

• Fabric is Easy-to-Clean & Change

• Conforms to Nearly Any Architectural Feature




THERMALLY INSULATIVE

• Helps Regulate Temperature

• Energy-Efficient: Save on Heating & AC

• Helps Prevent Condensation




SAFE

• Antimicrobial & Anti-Fungal

• Naturally Flame Retardant

• Non-Toxic