Tackable 24 in. x 24 in. Classic-Line® 1/2" Site-Fabricated Practice Kit 1 - with MaxTack™ Backing
3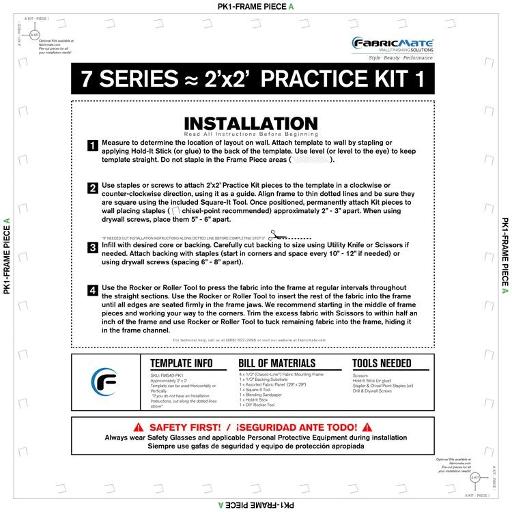 PRACTICE KIT 1: 4 SQUARE FEET OF EXPERIENCE
At Fabricmate®, we want you to succeed with our system. That's why we offer things like installation training, lunch and learns, wall templates, and these practice kits. They're perfect for helping you get started with our site-fabricated system.
We currently offer 3 types of practice kits, tailored to what you want to learn. Our 2'x2' Simple panel kit is best for absolute beginners, who want a simple DIY panel.  We also offer 4'x2' practice kits, each with a seam, for those who want to try curved or straight seamed panel installs. 
Each kit comes complete with templated actual-size instructions* that can be hung on the wall and installed over directly, as well as most of the tools you will need**. The instructions walk you through step by step to give you professional looking results. Try it out today!
* Example to the left is for visual purposes, not actual size.
** Stapler & staples or drill & screws to attach frame are not included.
Accessories Products