COMMERCIAL APPLICATIONS
ENHANCE THE PLACES WHERE YOU WORK & LEARN
---
Office Buildings, Worship Spaces, Hospitality, Condominium's, Government Spaces, Schools and more!!!!
STYLE, BEAUTY, PERFORMANCE - YOUR WAY!
Employees are coming back to the office, their surroundings make a difference.
Commercial buildings including Offices, Hospitals, Schools, Churches, Hotels, Condominiums, government spaces and more are realizing the advantages of the functional and cost saving benefits of our site-fabricated stretched fabric system. Create panels or cover full walls and ceilings with a system that has built-in wall protection, is acoustic, tackable, and can be customized with printed graphics, custom fabrics, colors, and more! And one of the biggest benefits, is you only need to change the Fabric/coverings if needed, not the whole panel like most all other choice on the market.
We recently introduced our Flex-Frame® for curved walls and applications. Able to follow curved walls, create custom curved and circular designs, and to adjust to out-of-true conditions, our Flex-Frame® is one of our newest and most popular products. With Short to no lead-times, not being limited to the normal 4'x8' panels, built on-site advantages, its no wonder Fabricmate systems have become the go-to solution for many projects around the world.


Our system has no VOCs or adhesives. Since the fabric is held taut over the backing and is not glued down, the majority of bumps, dings, and dents are not noticeable. The backing takes the hit, and the "floating fabric" design allows the fabric to bounce back, mitigating visible surface damage and minimizing maintenance costs. Fabric can easily be pulled out and replaced for special occasions or if it becomes soiled or damaged. Reduce your maintenance costs, your time & save big.
CHECK OUT SOME OF THE AWESOME WAYS THE FABRICMATE SYSTEM IS BEING USED IN THE GALLERY BELOW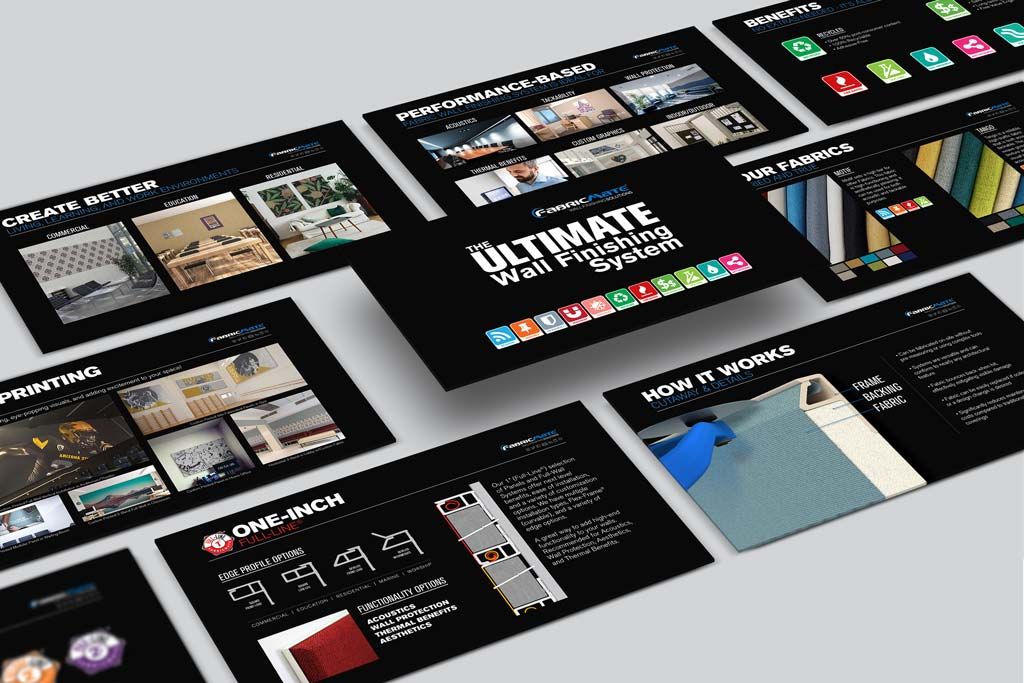 DOWNLOAD THE FABRICMATE® GENERAL OVERVIEW (PDF)
General Overview of our system, how it works, functionality, and benefits of our offerings.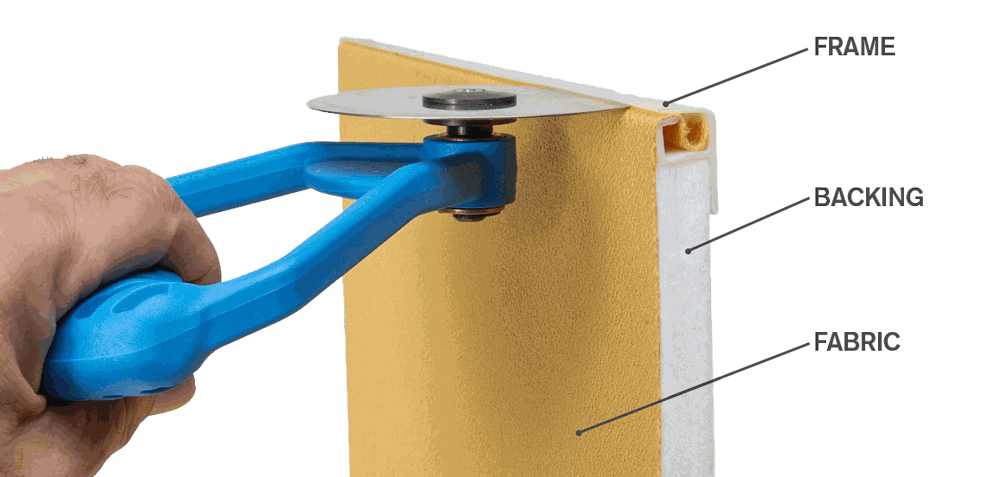 INNOVATIVE AND VERSATILE

With a variety of sizes, shapes, and colors available, the possibilities are endless.


FRAME outlines and frames the shape of the panel or wall, holding the fabric in place and protecting the edges with a high-impact polymer frame.

BACKING fills the frame and covers the wall, absorbing reverberated sound, providing impact-resistance, thermal insulation, and a pinnable bulletin-board like surface that's perfect for tacking up photos, documents, and more.

FABRIC is stretched over the backing and held taut by the frame allowing the panel surface to spring back when struck, effectively mitigating visible damage.
PROTECT YOUR WALLS, PROTECT YOUR POCKET
Maintenance adds up, save more with walls that need less.



ACOUSTIC

• Absorbs Reverberated Sound

• Improves Speech Intelligibility

• Increases Audio Clarity




TACKABLE

• Holds Tighter Than Cork

• Naturally Self-Healing

• Will Not Crumble




DURABLE

• Shock Absorbent & Crush-Proof

• Far Tougher Than Paint & Fiberglass

• Very Long Lasting




SUSTAINABLE

• 60% Post-Consumer Products

• 100% Recyclable

• VOC Free




FIRE-RATED

• Many Components are Fire-Rated

• Meets Code for Commercial Buildings

• ASTM E84 Class A Fire-Rating




INNOVATIVE

• Mitigates Visible Damage

• Fabric is Easy-to-Clean & Change

• Conforms to Nearly Any Architectural Feature


THERMALLY INSULATIVE

• Helps Regulate Temperature

• Energy-Efficient: Save on Heating & AC

• Helps Prevent Condensation


SAFE

• Antimicrobial & Anti-Fungal

• Naturally Flame Retardant

• Non-Toxic
WE WORK WITH THE BEST