DURABLE WALL FINISHING SYSTEMS THAT LOOK GREAT FOR EDUCATION, CORPORATE & GOVERNMENT SPACES
---
Protect & Adorn Your Walls, Quiet Your Environment & Save big time on your maintenance cost - NEVER PAINT AGAIN!!
Facility directors and maintenance managers are often directly involved with the specification and installation of floating-fabric wall panel systems and pre-assembled panels. They have recognized the aesthetic, acoustic, and functional benefits our systems offer compared to painted walls. Although the benefits are reason enough, short lead times, fast and easy installation, sustainability, and significantly reduced maintenance costs make our panels and systems an easy choice. Our Wall Finishing System is a perfect match to meet the needs of nearly any facility.


In lobbies, hallways, offices or common areas, the beauty, acoustic performance, and functionality of Fabricmate® panels and systems make that all important first impression. They convey warmth and comfort and improve speech intelligibility by significantly reducing reverberation. Transform plain walls into massive tackable surfaces for hanging posters, art, and reminders without risk of damaging the wall. Their durability protects your walls without need for constant maintenance.
Our panels and systems are low-maintenance and can be customized to your specifications.
SAVE ON MAINTENANCE COSTS
Paint offers little protection and functionality to the walls it covers. It scuffs easily and does nothing for acoustics. Worst of all, maintaining painted walls in high-traffic areas requires constant effort. Do away with the mess and hassle of paint and cover your walls with something more sustainable. Our panels and systems help mitigate visible damage and can be easily cleaned or replaced if they become soiled or a design change is desired.

AESTHETIC APPEAL
Fabricmate® panels and systems look great. They add a richness and depth you just can't get from painted drywall or concrete. They can be customized in color, texture, pattern, have custom printed graphics, and more. There's no reason to sacrifice aesthetics to get functionality or vice versa. With our panels and systems, you get both in one easy to use solution.

multi-functional
Acoustic performance is important and drywall offers almost none. "Speech intelligibility" is quickly becoming a required component of room design. Ideal for lobbies, meeting rooms, auditoriums, offices, classrooms, student housing, and anywhere else clear, uninterrupted communications are needed. Many of our systems and panels are tackable as well as acoustic. They inherently provide wall protection as well as thermal benefits.

This free kit is ideal for Facilities & Maintenance personnel who want to install their own wall finishing system. The Kit is meant to help you decide what's best for your facility. We include an example of each of our systems in the Starter Kit, making it easy for you to figure out what system - or combination of systems - is best for your facility.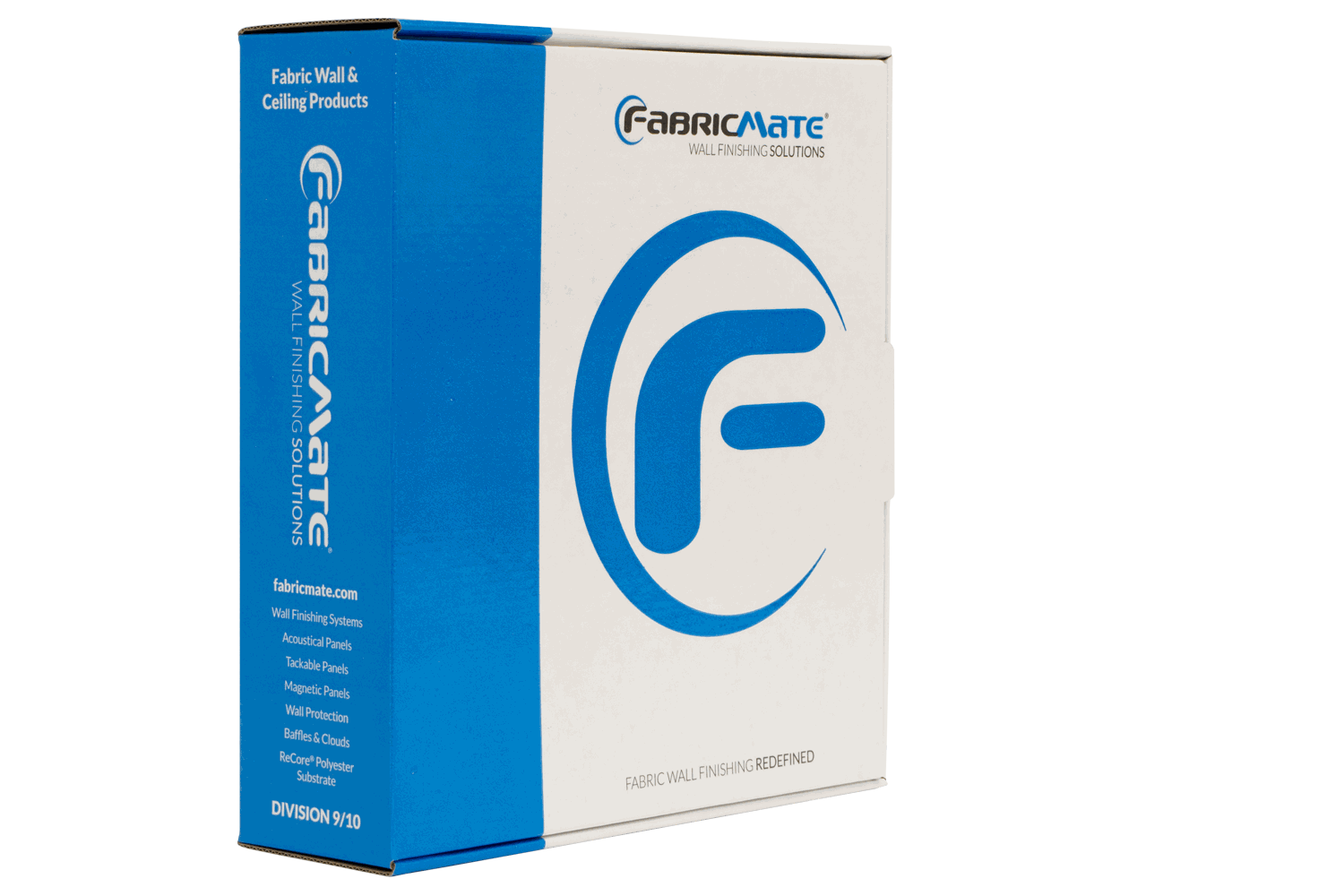 While most of our education, corporate, government, and military customers use outside contractors for their large-scale installations (i.e., multiple classrooms or dorm rooms), we find that their building services and/or maintenance departments are often faced with the challenge of addressing the smaller projects in a timely manner. There is always an ongoing requirement for installation of our products in single rooms, offices, and corridors, as well as tackboards, door boards, acoustic panels, and of course the occasional maintenance and repair of existing installations. We can help.


We are ready to provide you with complete support for the Fabricmate® system whether you want to do a lot, or just a little. We can arrange to equip your maintenance staff with all of the necessary tools, technical information, and an initial supply of materials so that you can begin getting familiar with installing Fabricmate® panels and systems.
We will happily teach you everything you need to know about specifying our systems in a quick webinar style training. We're here to help you get it right the first time.
Value Engineering helps to achieve the optimum balance between function, performance, quality, safety, and cost. Our support staff will work with you every step of the way. We're here to help.
We offer an unsurpassed lifetime warranty on the Frame and ReCore® Backing. Our "no cost" Fabric Replacement Plans are available to School Districts, Colleges, Universities, Companies, and other Institutions free of charge.
Our Product & Specifications Binder takes everything you love about our physical binder and digitizes it. Not only have we created a convenient and compact PDF, we've made it interactive, including links to relevant web pages on every page to make using it a breeze.
Includes: Product Catalog, Collection of Data Sheets, Most Popular Fabric Cards, Product Comparison Sheets