WORSHIP APPLICATIONS
ENHANCING THE PLACES YOU WORSHIP IN
---
Even the most attentive audiences can be distracted by poor acoustics. Eliminate distractions like reverberated sound while creating a custom look for your space.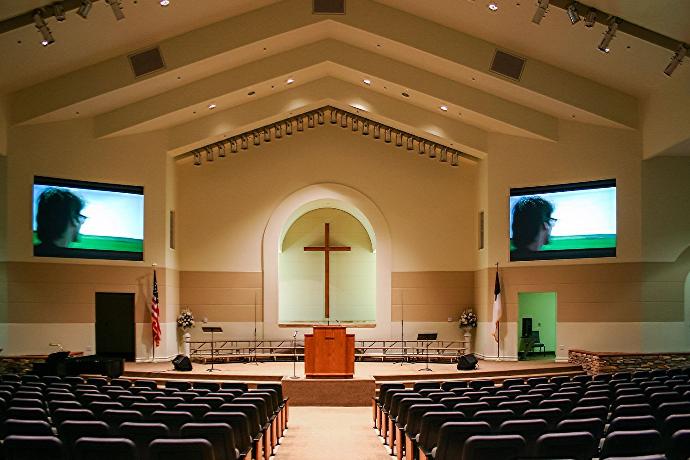 MAKE SURE IMPORTANT MESSAGES ARE HEARD
The design and appearance of your church, synagogue, or other worship facility can affect whether or not people visit and how often. Further, even the most attentive of audiences can be distracted by poor acoustics. In either case, the message isn't being fully communicated. Whether in lobbies, classrooms, congregation halls, sanctuaries, or other areas where people gather, make your ministry more effective with Fabricmate®.

Our acoustic panels and soundproofing systems can be quickly, easily, and inexpensively added to existing rooms and halls, and their contributions are immediately felt. They are extremely durable, will last for many years, and can virtually eliminate the need to paint so that monies can be put where they will do the most good.
Bare painted walls are an acoustics nightmare. They cause sound to reverberate, making it difficult to hear properly, especially in a large open spaces or crowded classrooms. Encourage people to connect with each other and the message throughout your place of Worship by eliminating distractions such as reverberated sound. Fixing these common acoustics issues and enhancing speech intelligibility is one of our primary focuses and we strive to make it as easy and inexpensive as possible.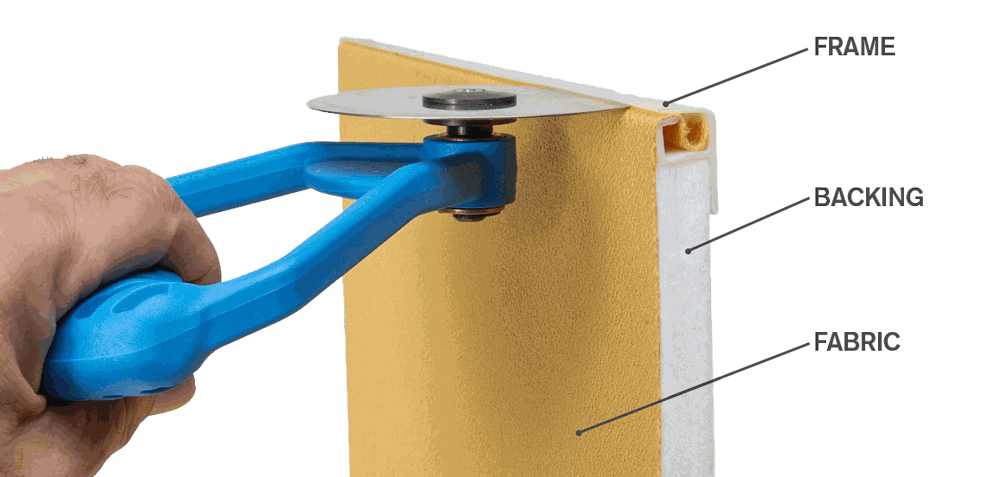 INNOVATIVE AND VERSATILE

With a variety of sizes, shapes, and colors available, the possibilities are endless.


FRAME outlines and frames the shape of the panel or wall, holding the fabric in place and protecting the edges with a high-impact polymer frame.

BACKING fills the frame and covers the wall, absorbing reverberated sound, providing impact-resistance, thermal insulation, and a pinnable bulletin-board like surface that's perfect for tacking up photos, documents, and more.

FABRIC is stretched over the backing and held taut by the frame allowing the panel surface to spring back when struck, effectively mitigating visible damage.
MAKE SURE YOUR MESSAGE IS HEARD
Reverberated, or reflected sound can be a real problem. Don't let your message go unheard because of reverberated and reflected sound. Our panels and site-fabricated systems can be an attractive and cost-effective answer to solving these acoustic issues quickly and easily.
PROTECT YOUR WALLS
Our panels and full-wall systems also protect your walls by providing a high-impact backing that can mitigate visible damage from bumps, hits, and dings. High-Traffic areas can greatly benefit from the wall protection our system provides.
CREATE AN INVITING ATMOSPHERE
A warm and inviting environment makes your guests feel comfortable. Encourage more people to visit by customizing your space with colors, textures, patterns, printed graphics, custom branding, and more.
PROTECT YOUR WALLS, PROTECT YOUR POCKET
Maintenance adds up, save more with walls that need less.








ACOUSTIC

• Absorbs Reverberated Sound

• Improves Speech Intelligibility

• Increases Audio Clarity







TACKABLE

• Holds Tighter Than Cork

• Naturally Self-Healing

• Will Not Crumble







DURABLE

• Shock Absorbent & Crush-Proof

• Far Tougher Than Paint & Fiberglass

• Very Long Lasting







SUSTAINABLE

• 60% Post-Consumer Products

• 100% Recyclable

• VOC Free







FIRE-RATED

• Many Components are Fire-Rated

• Meets Code for Commercial Buildings

• ASTM E84 Class A Fire-Rating







INNOVATIVE

• Mitigates Visible Damage

• Fabric is Easy-to-Clean & Change

• Conforms to Nearly Any Architectural Feature







THERMALLY INSULATIVE

• Helps regulate temperature

• Energy efficient: Save on heating & AC

• Helps prevent condensation




SAFE

• Antimicrobial & Anti-Fungal

• Naturally Flame Retardant

• Non-Toxic