PRINTED GRAPHICS
---
Photographic Prints & Branding on Fabric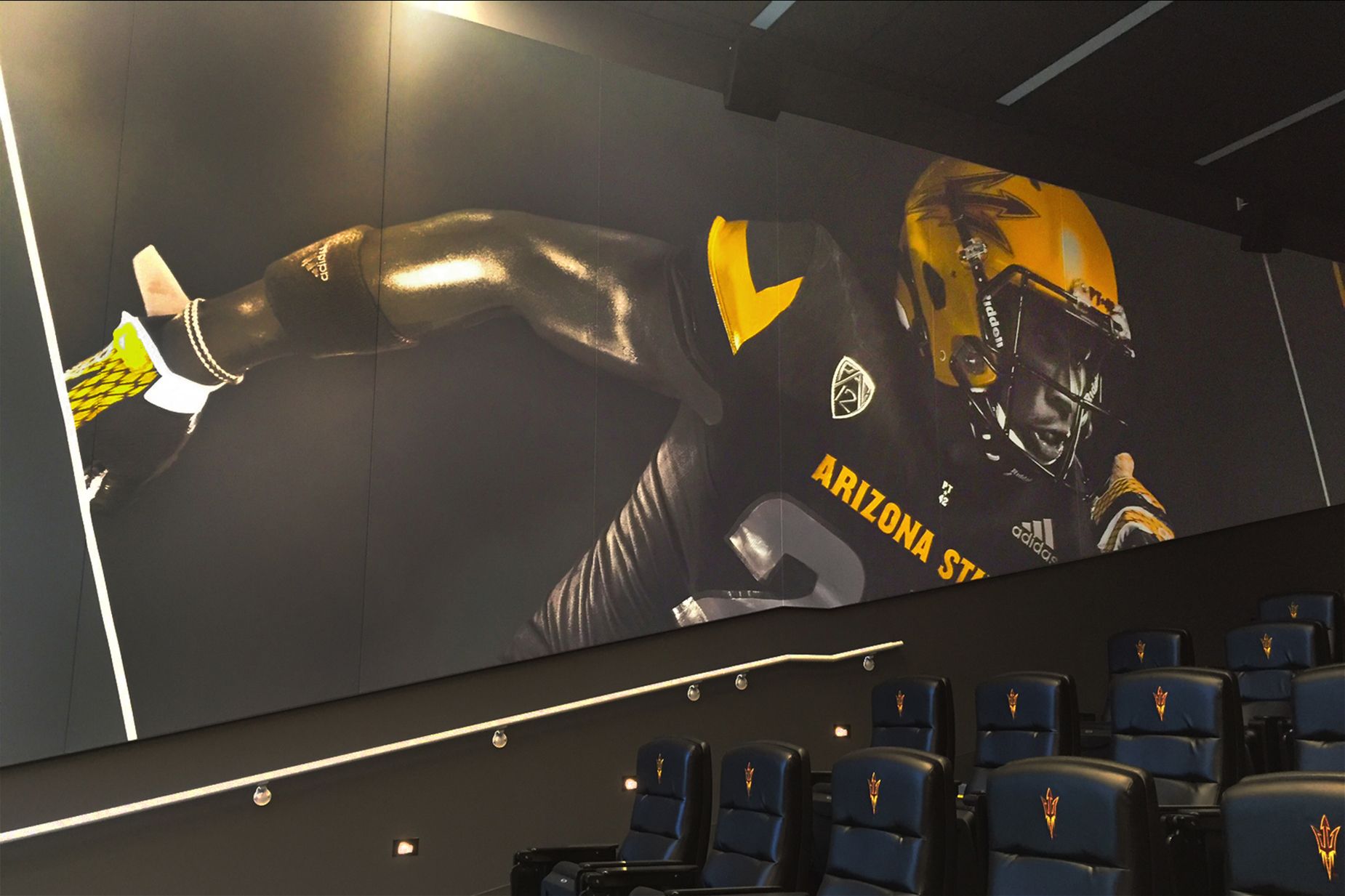 Transform any space in your living, learning, or work environments with a Fabric Printed Photographic Mural. Whether you need a full-wall scenic landscape in your conference room or a custom printed fabric panel, Fabricmate has a solution that provides more than just a great looking fabric graphic. Our Fabric Graphic Systems can provide acoustic performance, transforming your fabric wall art into a sound absorbing acoustic wall system.
All manner of graphics including photographs, drawings, geometric designs, graphs, maps, and almost anything else you can imagine can be printed on fabric. Use them to make a dramatic impact or to provide a calming environment.
Printed Graphics have a wide range of uses including but not limited to: lobbies, hallways, offices, multi-purpose rooms, homes, schools, gyms, libraries, restaurants and more. Use as signage, suspended as banners, corporate branding, directly applied to many surfaces and more. With sizes up to 10' x 160', the design possibilities are endless.
Graphics can be printed on a wide range of our Fabricmate fabrics, Graphic prints range in price per square foot. For acoustic applications, pre-made panels or custom features please Contact Us to request a quote and go over the details of your project.
FABRICMATE PRINTED GRAPHIC INSTALLATION VIDEO
Check out this cool graphic panel installation that took place at Discovery Ventura - a former bowling alley that has been transformed into a premier concert venue. A rectangular wall panel was site-fabricated using our FS100 Classic Line® 1/2" Front Loading Frame and ReCore® 1/2" MaxTack® Plus backing. The image, created by a national artist, was printed on fabric by Fabricmate. Find out how we can help you transform your blank walls with our printed graphics on fabric.
All types of graphics including photographs, drawings, geometric designs, graphs, maps, logos, and almost anything else you can imagine can be printed on fabric. Customize your walls to make a dramatic impact or to provide a calming environment.

THE ONLY LIMIT IS YOUR IMAGINATION

If it's printable, we can do it. Photographs, Branding, Sketches, Maps, Classroom Tools, Seamless Patterns, Logos, and anything else you can think of. We have the capabilities to print anything from huge murals to very small and detailed icons, line art, and more.
INDOORS AND OUTDOORS
That's right! We can also print on panels or full-wall installations that will be outside, exposed to sun, rain, and other elements. With our proprietary printing process we can utilize latex inks that not only show bright, vivid colors, but also are scratch-resistant, long-lasting, and weatherproof.
HIGH-QUALITY, DETAILED PRINTS
Why print photographs on fabric if they aren't photo-quality? With our proprietary printing process we can print very high-end, photograph-quality graphics on fabric so you can have a fully customized panel or full wall installation.
CONFERENCE ROOM WALL WITH INSET GRAPHIC
See how our 7 Series Site-Fabricated Wall Finishing System can create a unique aesthetic with a printed graphic inset within a larger full wall acoustical wall panel.
Customers may supply their own images or select one of our standard images. If you are supplying your own image, it should be a suitable image (or vector) format like a high-quality jpg, tiff, pdf, eps, ai, etc with a minimum resolution of 100dpi at the desired size of the final print (if you are unsure that your image/photo meets our standards, just Contact Us and we'll help you out).
Please note Fabricmate will not print images or graphics that are the copyright or intellectual property of a third party unless you can submit proof in writing that you are the owner or have permission from the owner or copyright holder to reproduce said images or graphic designs. We reserve the right to refuse a graphic print order which may, in our opinion, be illegal or infringe on the rights of others. The customer is subject to full legal liability for any images or graphics that are printed on their behalf and under their instructions and agrees to hold Fabricmate harmless for any and all liabilities, losses, claims, judgments, penalties, expenses or demands that may arise from the printing of customer-provided images or graphics.