FA901 Fabric - Black 66" usable width
3
A Classic Black  Fabric, Great for Home theaters and any applications that need a solid black finish.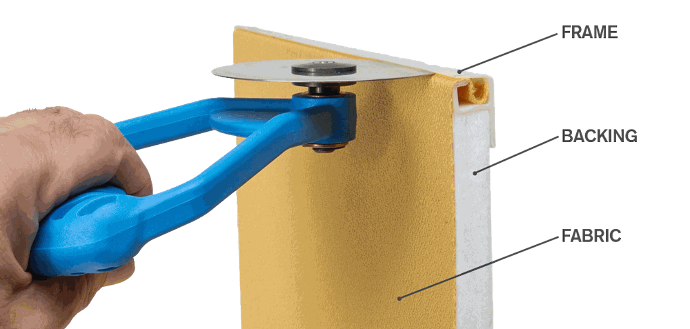 INNOVATIVE & VERSATILE
---
With a variety of sizes, shapes, and colors available, the possibilities are endless. 
FRAME outlines and frames the shape of the panel or wall, holding the fabric in place and protecting the edges with a high-impact polymer frame.

BACKING fills the frame and covers the wall, absorbing reverberated sound, providing impact-resistance, thermal insulation, and a pinnable bulletin-board like surface that's perfect for tacking up photos, documents, and more.

FABRIC is stretched over the backing and held taut by the frame allowing the panel surface to spring back when struck, effectively mitigating visible damage.
Easily Customizable
Our Frame is flexible and easy to work with, making customization a breeze. Our Frame also works great when you run into walls that are not perfectly symmetrical or have dents, damage, and wear and tear. Since our frame is flexible, you can follow the lines to the tee, even the crooked ones. Take control of your walls. 

Flexible
With our Flex-Frame® you can create rounded corners, wavy layouts, and full on rounded/circular designs. Great for baffles, styled installations, and ceilings.

Tired of Traditional
Bored with the regular old rectangle and square panels? With our Flex-Frame® you can create fully customized layouts including creating your own custom curved or circular design.

Built Smart
We now offer Fabricmate Frame Kits to make your installation even easier! We've created pre-cut Kits for Switches & Outlets, Inside Corners, Outside Corners, Seams, and more so you don't have to waste extra time figuring out angles, sizes, and other technical details.