COMMERCIAL SPACES
Modern Commercial interior spaces deserve much more from their walls. Floors with hard surfaces and walls of glass, it is no wonder the space can be extremely loud and unpleasant to be in. Fabricmate Systems products can instantly improve any space acoustics, deaden the reverberation, increase the speech intelligibility, while protecting the walls and adding awesome aesthetics. "The Smart way to Finish your Walls"
EDUCATION SPACES
Learning spaces can be a challenge for many reasons. Large rooms, lots of people, and to many hard surfaces. Its been proven, when an instructor's message cant heard, students of any age won't learn. Speech intelligibility is key to learning. Fabricmate Systems can greatly reduce noise reverberation, quite the space with Acoustical benefits, add soothing Aesthetics, provide Tackable display areas and create an environment build for learning. "The Standard for EDU Tackable Solutions"
WORSHIP SPACES
Is your message being heard! Houses of Worship can be extremely challenging to control the noise. Large cavernous spaces, lots of people, and many hard surfaces. There is nothing more frustrating than to come to a place to Worship and not be able to hear the speakers message. Even the most attentive audiences can be distracted by poor acoustics. Eliminate distractions like reverberated noise while creating a custom look for your space. "Let Your Message be Heard"
OFFICE SPACES
Today's office spaces are increasingly demanding more from their walls. They need to not only perform, but look good. This means getting the most from the wall Finishing products you choose. Paint, wallpaper and other old school traditional methods may look good, but the benefits end there. They guarantee only one thing, you'll have to replace them again, and again at the same cost. With Fabricmate Systems you can have multiple benefits from one product, Aesthetics, Acoustics, Tackable Display, Wall Protection, Thermal and more. Plus the ability to only change the coverings down the road. "The Ultimate Wall Finishing System"
​RECORDING STUDIOS & HOME THEATERS
Arguably these spaces are some of the most critical areas to control sound. They demand precision and performance without fail. When performers come into these spaces large or small they expect to do their craft and "the space will do the rest".
Homes of Today have transformed into more than just a place to live. We work at home, entertain there and spend way more time than every before. Finally, a way to bring texture, color, and functionality to your living spaces. Whether it's a Home Office, Basement, Bedroom, Home Theater, or other space, our panels and full-wall systems can help absorb reverberated sounds, protect your walls, and be customized to create "The Ultimate Wall Finishing System".
GO BIG GO BOLD
Make the Statement your Space or Brand deserves. Whether it's a Corporate Office or Entryway, School Campus, Museum, or any area designed to impress, Large whole Wall Graphic prints stand out. Fabricmate Systems can help make your space a place to remember, Motivate or Inspire the people that mean the most to you. "Go Big & Bold"


​GYMNASIUMS & AUDITORIUMS
Large spaces need Acoustical sound control to stop reverberation and allow for the events to go on as planned. Sports and Plays alike are most enjoyed when noise can be controlled to a level that is enjoyable. "Let the Crowd In"

​Lobbies & Corridors
Large common areas that need Acoustical sound control to stop Sound reverberation and Wall Protection to keep your people and walls safe, need our WPS (Wall Protection Systems). "Let the Crowd Roam"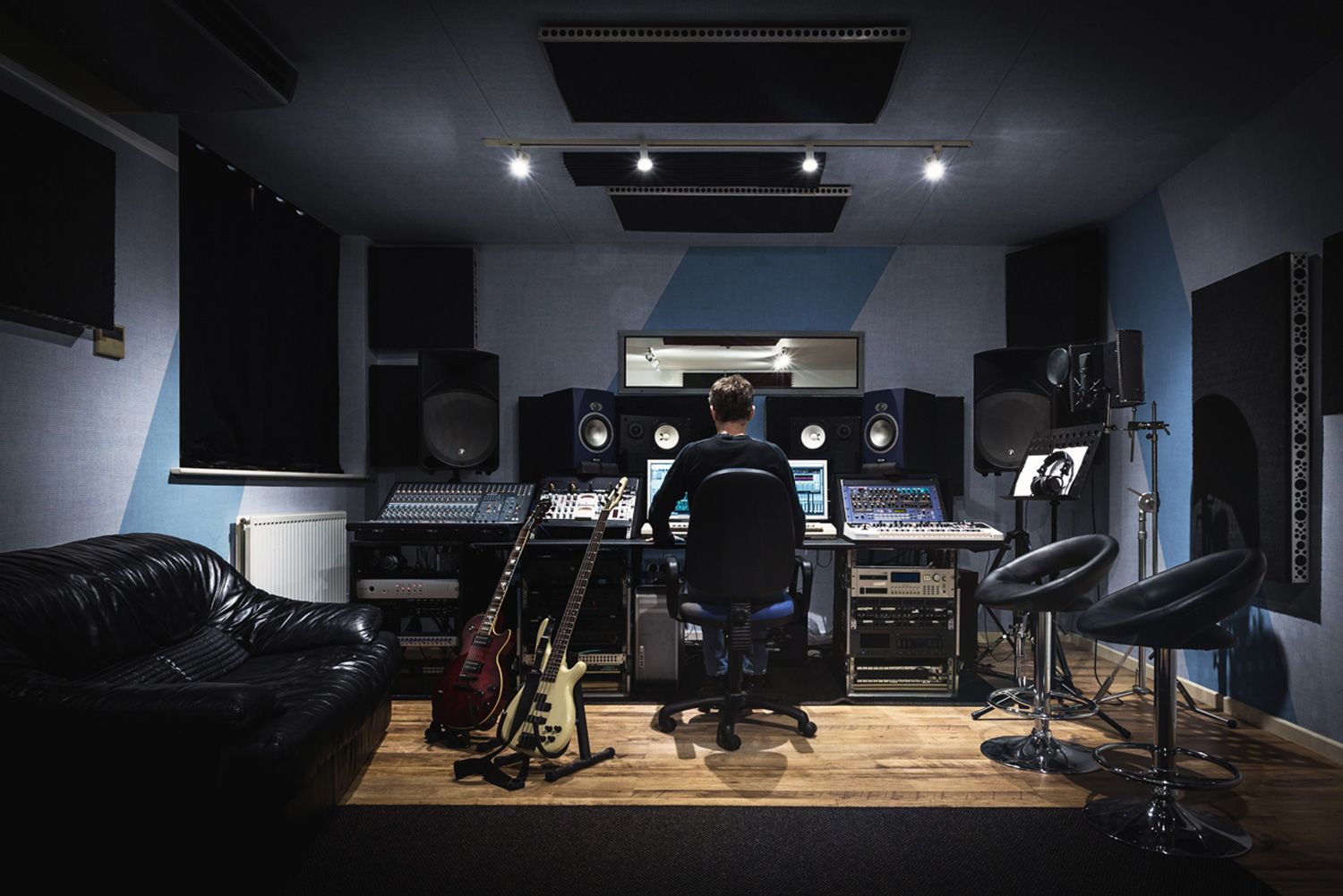 The ultimate wall finishing system
---
Our Panels and Full-Wall Systems are focused on bringing two main things to the table:
Functionality and Aesthetics

We offer Panels and Full-Wall Systems that can help reduce echoes and reverberated noise as well as be personalized in size and shape (including curved designs) and can also incorporate custom printed graphics.
Acoustic benefits are only the beginning. Our systems also inherently help protect your walls, can be tackable, and offer thermal benefits. All Panels and Full-Wall Systems are non-toxic, safe to handle, lightweight, easy to install, and the fabric covering can be replaced if a design change is desired.
Let us help you bring your vision to Life.
Our systems are easy to install and can be utilized in virtually any environment with sound control issues, a need to display work or just make your walls look awesome. Our panels and systems can be installed in new construction or remodels, as well as on ceilings, concrete, or hung as baffles.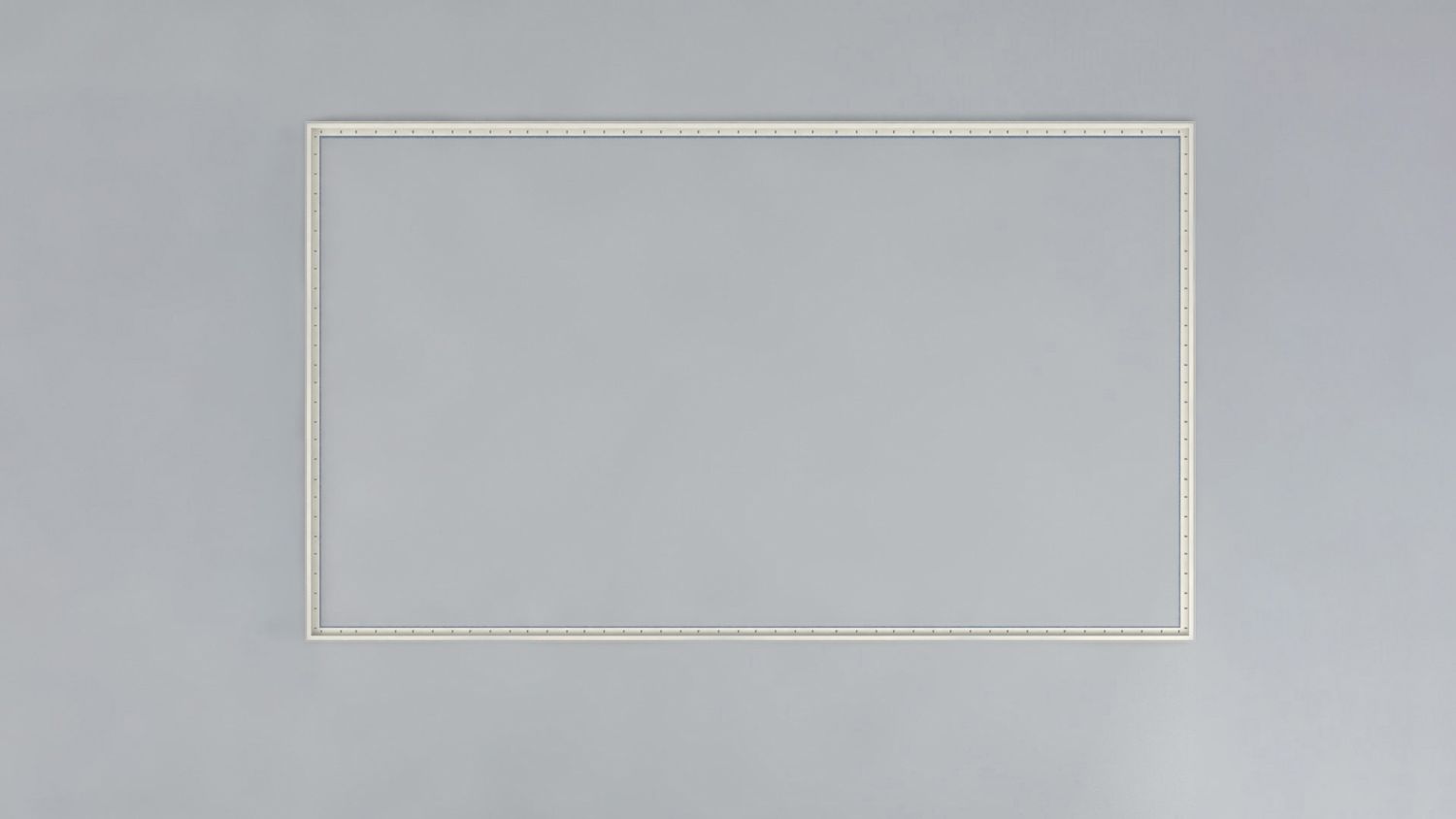 FRAME
The Frame outlines the shape of the panel or full-wall system, holding the fabric in place and protecting the edges with high-impact, safe, uPVC plastic. Installation can vary in size and shape and incorporate curved elements.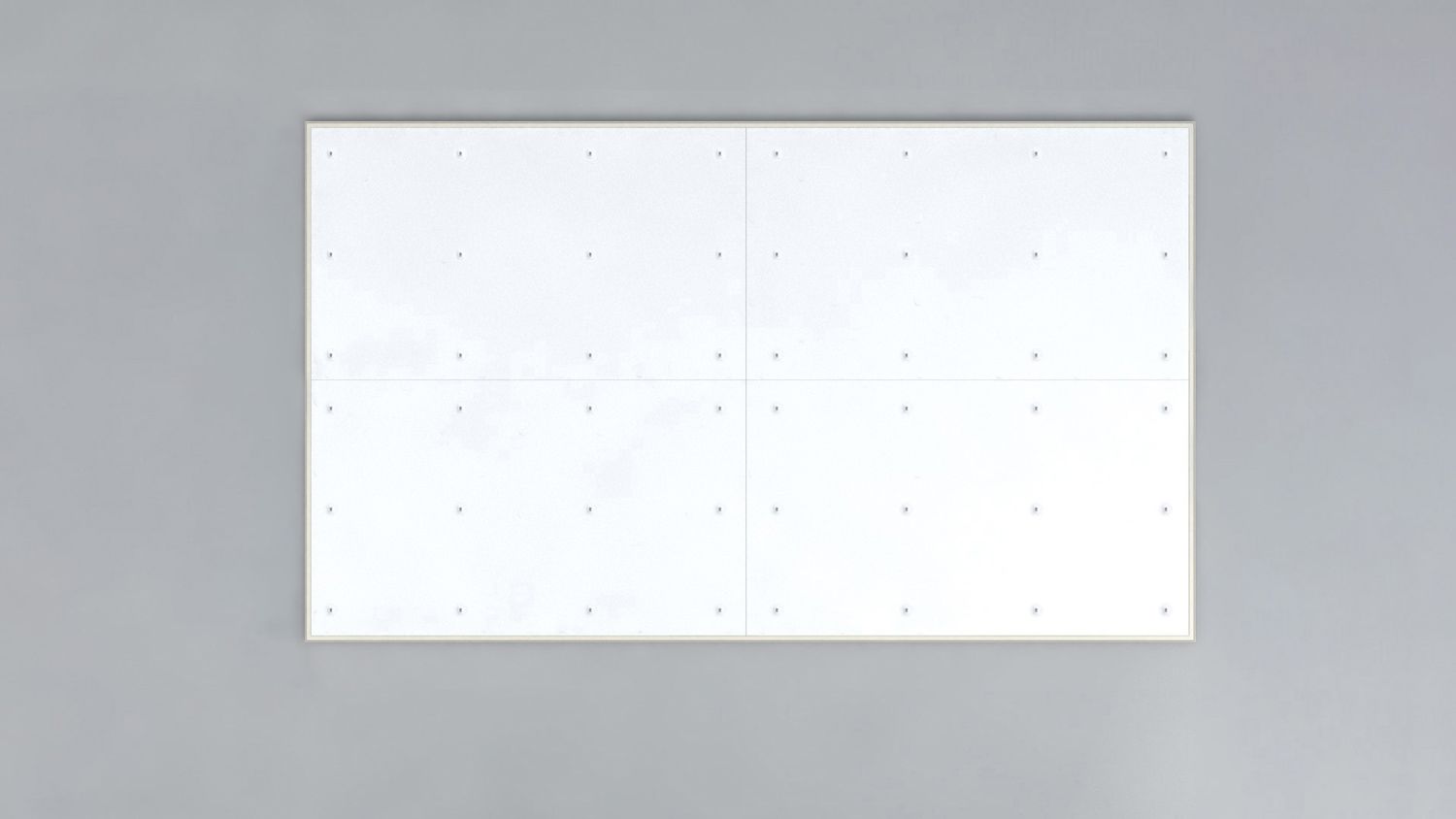 BACKING
The Backing fills in the Frame and covers the wall, absorbing reverberated sound and providing impact resistance, thermal insulation, and a pinnable bulletin-board-like surface that's perfect for tacking things up.

FUNCTIONALITY
What can it do?
Acoustic
Absorbs sound reducing echoes and noise reverberation
Tackable
Hang documents, pictures, and more without damaging the surface
Wall Protection
High-Impact wall covering that can take a hit and bounce back
Magnetism
Create magnetic hotspots/areas within a larger installation
PLUS
Additional options and benefits
Thermal Benefits
Our panels and full-wall systems can help to regulate temperature
Custom graphic printing
We can custom print branding, photos, graphics, and more
Recycled & safe
Our systems are made of recycled materials, are non-toxic, and are safe to handle
Easy changeability
The fabric can be replaced if it becomes soiled or a design change is desired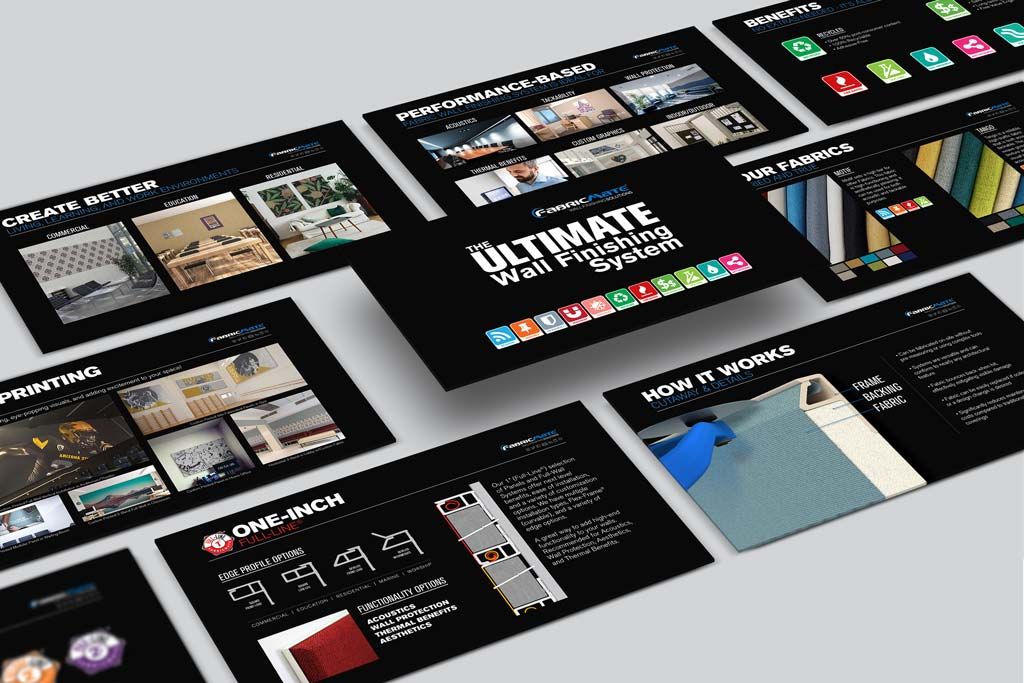 DOWNLOAD THE FABRICMATE® GENERAL OVERVIEW (PDF)
General Overview of our system, how it works, functionality, and benefits of our offerings.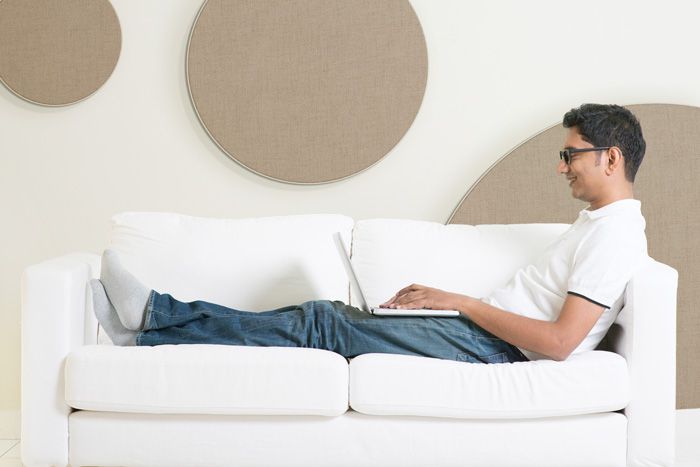 sound solutions for a noisy world
how to buy
Our system is only 3 components (Frame, Backing, and Fabric) but there are a number of available functionality, style, shape, size, and installation options that can be overwhelming if it's your first time here. If that's the case, feel free to give us a call or send an email (details below) and we will be happy to answer any questions you might have and help you find the best solution for your situation. Otherwise, here are a few of our popular shop categories:


Looking for more info?
Try these: