EDUCATION APPLICATIONS
IMPROVE YOUR LEARNING ENVIRONMENTS - ITS KEY TO SUCCES
---
Fabricmate® panels and systems have great impact on learning environments. Enhance learning by reducing reverberated sound and improving speech intelligibility. If Students cant hear they cant learn.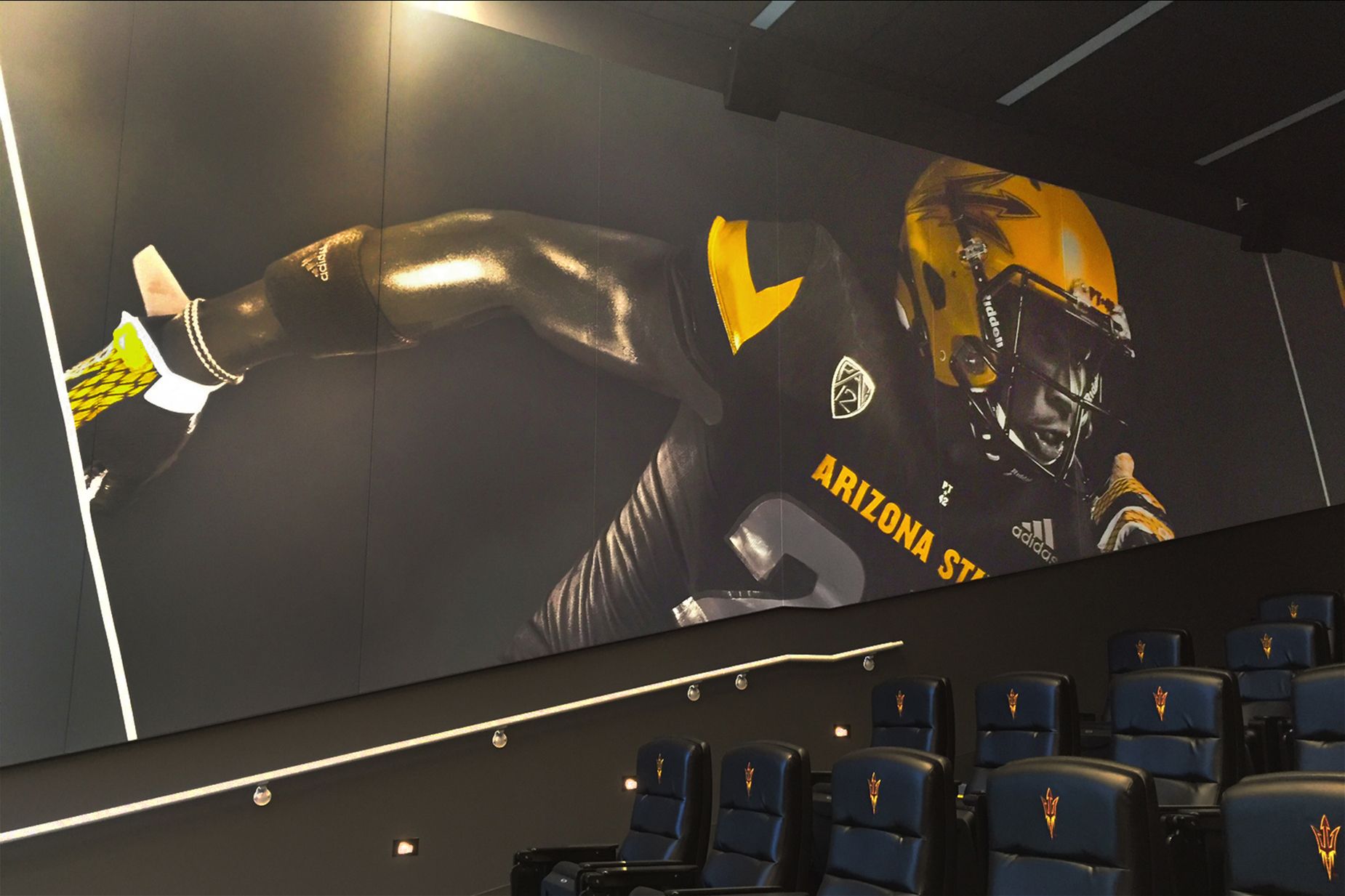 IMPROVE YOUR LEARNING ENVIRONMENTS
Bare painted walls are an acoustic nightmare. They cause sound to reverberate, making it difficult to hear properly, especially in a crowded classroom. Our Wall Finishing Systems are proven to significantly reduce these common acoustic problems and enhance speech intelligibility; which is one of the primary reasons why LAUSD, UCLA, University of Wisconsin and many other school districts are using Fabricmate® Wall Finishing Systems.


Classrooms often have a speech intelligibility rating of 75 or less. This is the equivalent of missing every fourth word. This stressful situation induces fatigue and makes it difficult to focus. Our students deserve better and we believe in doing everything we can to improve their learning environments. Not only do bad acoustics interfere with the learning of those with normal hearing but there are many who may have learning disabilities or auditory processing difficulties. Young children and those who are learning English as a second language are less able to 'fill in the blanks' due to their limited vocabulary.


Fixing these common acoustic problems is one of our primary focuses and we strive to make it as easy and inexpensive as possible.
Our acoustic panels and site-fabricated systems are perfect for any age. Whether in classrooms, hallways, common areas, gyms, or elsewhere, the beauty, acoustic performance, and functionality of Fabricmate® Panels and Systems make that all important first impression. They convey warmth and comfort and improve speech intelligibility by significantly reducing the volume of reverberated sound and shortening reverberation times.
Fabricmate® Wall Finishing Systems create that high-tech feel that students love. They transform plain walls into massive tackable bulletin boards for hanging posters, art, and reminders without risk of damaging the wall behind. They improve acoustics by absorbing reverberated sound and reducing noise levels. Their built-to-last durability provides a high-impact barrier that - unlike paint - protects your walls without need for constant maintenance.
GREAT FOR ANY AGE LEARNING ENVIRONMENT
Acoustic and tackable functionality for all ages and learning environments. Significantly increase audio clarity and intelligibility.

SAFE
Our panels and systems are great for all ages. They are created with safe, non-toxic materials that are environmentally-friendly and incredibly durable. Kids can safely interact with and use our system without worry of the side-effects you might get from a fiberglass panel.
STYLISH
You can customize nearly every aspect of our system. Not only are you creating a functional wall surface, you're also able to fully stylize it. Frame color, frame shape, vertical, horizontal, flexible, printed graphics, multi-color, geometric designs... the only limit is your imagination!
DURABLE
We know your walls can take a beating... so we make sure our panels and systems can too. Build with a "floating fabric" design means that damage to the panel is not seen on the surface. The substrate beneath the fabric takes the hit and the fabric stays stretched across the panel. The fabric can also easily be changed if it gets soiled or a design change is desired.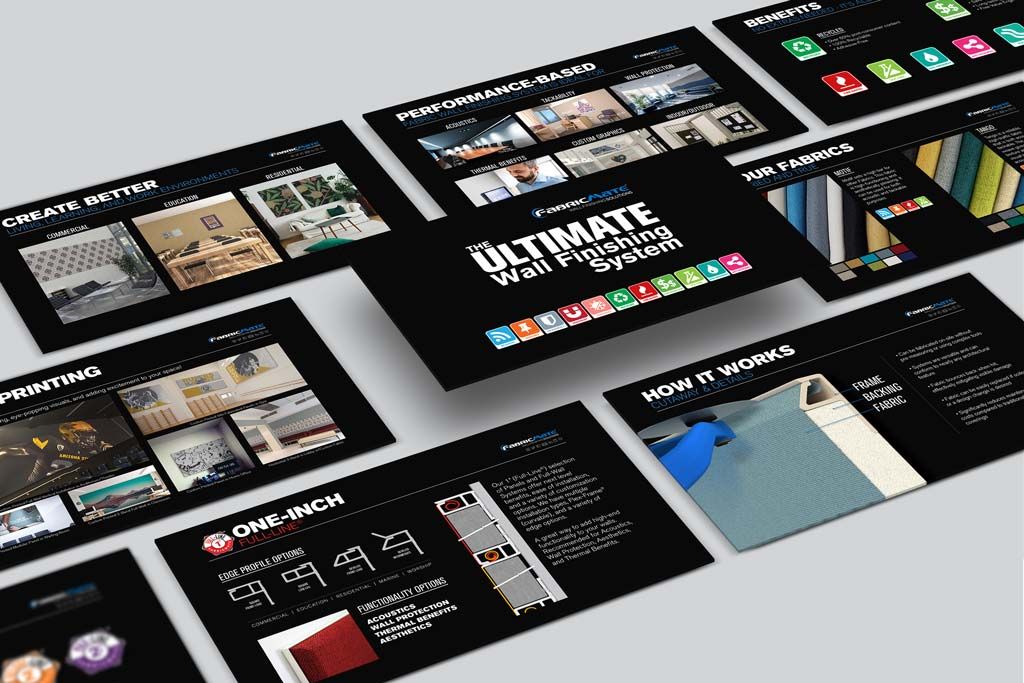 DOWNLOAD THE FABRICMATE® GENERAL OVERVIEW (PDF)
General Overview of our system, how it works, functionality, and benefits of our offerings.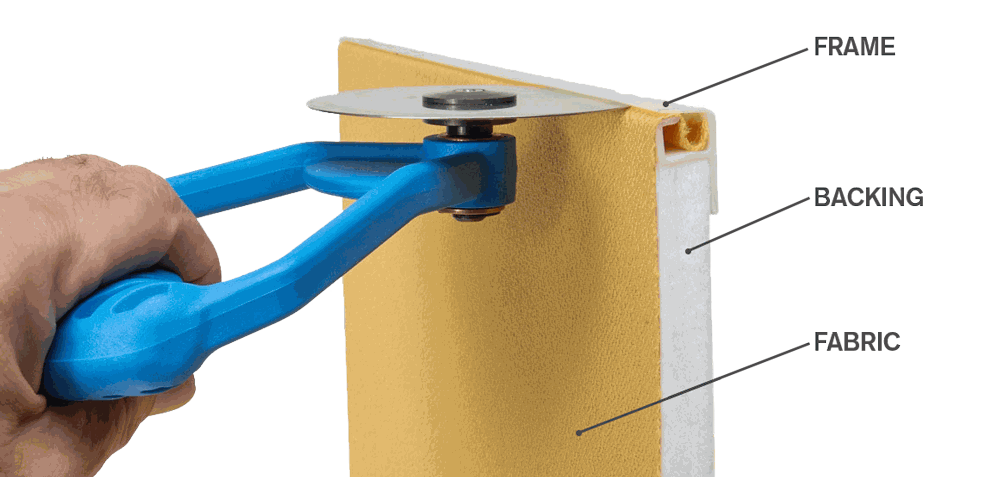 INNOVATIVE AND VERSATILE

With a variety of sizes, shapes, and colors available, the possibilities are endless.


FRAME outlines and frames the shape of the panel or wall, holding the fabric in place and protecting the edges with a high-impact polymer frame.

BACKING fills the frame and covers the wall, absorbing reverberated sound, providing impact-resistance, thermal insulation, and a pinnable bulletin-board like surface that's perfect for tacking up photos, documents, and more.

FABRIC is stretched over the backing and held taut by the frame allowing the panel surface to spring back when struck, effectively mitigating visible damage.
PROTECT YOUR WALLS, PROTECT YOUR POCKET
Maintenance adds up, save more with wall that need less.



ACOUSTIC

• Absorbs Reverberated Sound

• Improves Speech Intelligibility

• Increases Audio Clarity




TACKABLE

• Holds Tighter Than Cork

• Naturally Self-Healing

• Will Not Crumble


DURABLE

• Shock Absorbent & Crush-Proof

• Far Tougher Than Paint & Fiberglass

• Very Long Lasting




SUSTAINABLE

• 60% Post-Consumer Products

• 100% Recyclable

• VOC Free


FIRE-RATED

• Many Components are Fire-Rated

• Meets Code for Commercial Buildings

• ASTM E84 Class A Fire-Rating




INNOVATIVE

• Mitigates Visible Damage

• Fabric is Easy-to-Clean & Change

• Conforms to Nearly Any Architectural Feature




THERMALLY INSULATIVE

• Helps Regulate Temperature

• Energy-Efficient: Save on Heating & AC

• Helps Prevent Condensation




SAFE

• Antimicrobial & Anti-Fungal

• Naturally Flame Retardant

• Non-Toxic