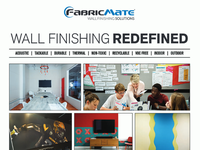 Fabricmate - General Overview (Widescreen) Presentation
General Overview of our system, how it works, functionality, and benefits of our offerings.
ReCore® Brochure
This brochure showcases our ReCore® line of innovative and versatile Acoustical & Tackable backings that work alone or in conjunction with our Fabric Wall Finishing System.
Here you will find information about all of our product offerings including Brochures, Catalog, Datasheets and Instructional Guides. We are always adding more content so please check back often to get the latest product information.