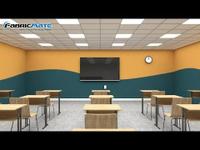 Fabricmate Videos
Below You will Find an Extensive Library  of  Informational and How-To Videos, designed to assist in guiding you through your project needs  no matter how small or large. If you don't see what your looking for please give us a call .  
Fabricmate - Wall Finishing Redefined
Fabricmate's Stretched-Fabric Wall Finishing System and Acoustic and Tackable panels are terrific for:
Home Theater and Music Room acoustics.
Sound dampening in Kitchens and Restaurants to reduce the sharp clinking and clanking noise from dishes and utensils.
Excellent sound control for Apartments where reducing sound leak helps with privacy.
Here you will find all of Fabricmate's informational Installation, Product and Promotional Videos