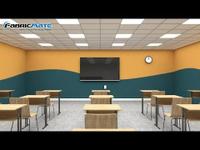 Fabricmate Videos
Below You will Find an Extensive Library  of  Informational and How-To Videos, designed to assist in guiding you through your project needs  no matter how small or large. If you don't see what your looking for please give us a call .  
7 Series Site-Fabricated Wall Covering System Overview
This brief video gives a quick overview showing how our 7 Series Site-Fabricated System can quickly transform your normal everyday walls into a work of art. Fabricmate makes it easy with pre-cut kits to handle the corners and joints. Within no time you can be enjoying the beauty and functionality that fabric covered walls bring to any room.
Fabricmate® Fabric Wall Finishing for your Home
Don't paint your walls - Fabricmate® them and design your walls your way. Your home is your sanctuary and where you spend most of your time. Shouldn't the walls in your home perform for the way you live? Turn your lifeless walls into beautiful and functional fabric upholstered walls with Fabricmate®.

We have solutions for every room in your home including bedrooms, home theaters and basements. Make your walls Acoustical, Tackable, Durable, Thermally Insulative and Aesthetically pleasing while saving money and time. Enhance your home today with the Ultimate Wall Finishing Solution - Fabricmate®!

https://www.fabricmate.com/residential-applications
Fabricmate® - "Raw" ReCore® Acoustical Products for Walls, Ceilings and Floors
Fabricmate's versatile "Raw" ReCore® products can add Acoustics, Aesthetics and more to virtually any wall, ceiling, or floor in Residential, Commercial, Office, or Industrial settings. It is ideal for use in places such as Homes, Restaurants, Offices, Industrial Buildings, Large Distribution Centers, Sports and Aquatic Complexes and many more. It is made from recycled water bottles and is 100% safe to handle and use, even around children and pets.

On walls, "Raw" ReCore® can provide Acoustics, Tackability, Aesthetics, Wall Protection and Thermal Insulation. Its sound absorbing qualities can help quiet noisy rooms and environments. Its surface can be painted (using non-bridging acoustical paint) or custom printed to display stunning graphics, art, or photography.

"Raw" ReCore® can be directly applied to ceilings to provide Aesthetics and Acoustics that can help quiet noisy rooms and areas. It also comes in 2 ft. x 4 ft. tiles for use in drop ceiling grid systems.

It can be used as a floor underlayment along with our SoundSentinel® soundproofing to block sound transmission between floors in multi-story structures such as Homes, Apartment Buildings, and Hotels.

Use it as a noise-reducing thermal insulation on HVAC ducting.

ReCore® is non-absorbent and anti-microbial making it ideal for use in Basements, Garages and potentially damp environments like Bathrooms and Laundry Rooms.

Get ReCore® now at: https://www.fabricmate.com/shop/category/backings-substrates-recore-r-5
Here you will find all of Fabricmate's informational Installation, Product and Promotional Videos