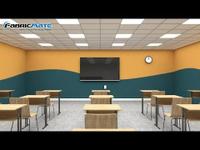 Fabricmate Videos
Below You will Find an Extensive Library  of  Informational and How-To Videos, designed to assist in guiding you through your project needs  no matter how small or large. If you don't see what your looking for please give us a call .  
Multi-Wall Installation Instructions - Fabricmate® 7-Series Site-Fabricated Wall Covering System
Make your own fabric covered acoustic walls with ease — whether you're wanting better acoustics in your office, classroom, or home studio, Fabricmate®'s Wall Finishing Solutions has you covered.

In this video we cover all the basics of a 7-Series Site-Fabricated System install with some quick, easy-to-follow instructions, including some tips and tricks to make installs go smoothly with professional results.

Ready to get your install started, or have some questions? Visit our website, where we have live people ready to answer any and all questions VIA chat!

https://fabricmate.com
Conference Room Wall with Inset Graphic
This video showcases the Fabricmate System's ability to install fabric on a conference room wall split into thirds. This also showcases the System's functionality involving inserting a graphic in the center of the wall.

As you can see, the process is very simple, and can be done with few installers!
Detailed How-To Videos & Pro Tips & Tricks
View all
Here you will find all of Fabricmate's informational Installation, Product and Promotional Videos