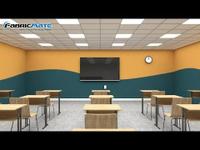 Fabricmate Videos
Below You will Find an Extensive Library  of  Informational and How-To Videos, designed to assist in guiding you through your project needs  no matter how small or large. If you don't see what your looking for please give us a call .  
Basic Overview of Fabricmate Site Fabricated Fabric Wall System
Learn the basics of installing Fabricmate's Site-Fabricated Fabric Wall Finishing System. From cutting and installing the Fabric Mounting Frame, attaching the ReCore backing, to rolling in the fabric this video covers the key steps to creating a fabric wall panel with a horizontal seam. Includes many tips & tricks to make installation even easirer.
Detailed How-To Videos & Pro Tips & Tricks
View all
Here you will find all of Fabricmate's informational Installation, Product and Promotional Videos