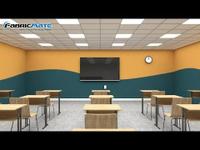 Fabricmate Videos
Below You will Find an Extensive Library  of  Informational and How-To Videos, designed to assist in guiding you through your project needs  no matter how small or large. If you don't see what your looking for please give us a call .  
Fabricmate® - How To Install Max-Line® 2 inch+ Top Load Acoustical Fabric Wall Finishing System
This video shows you how easy it is to install Fabricmate's Max-Line® 2"+ top/front loading acoustical fabric wall finishing system on drywall. Max-Line® offers best-in-class acoustics for Home Theaters, Recording Studios, Auditoriums, Music Halls and any room where acoustical wall panels are needed to reduce room noise and reverberations. It's 2" thick profile allows you to install thicker acoustic backings for maximum acoustical performance in any room.
Detailed How-To Videos & Pro Tips & Tricks
View all
Here you will find all of Fabricmate's informational Installation, Product and Promotional Videos